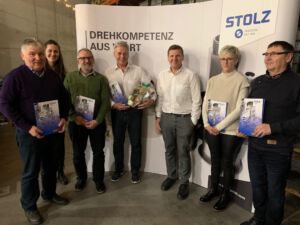 The contemplative pre-Christmas period is in full swing. For a long time, it was not possible to celebrate together during this time due to the Corona situation. This year, on 03.12.2022, we made up for it with a Christmas party on our premises in Konradsbronn. Employees of our company and their families were invited to spend a few cozy and pre-Christmas hours together. In an nice Christmas market atmosphere, mulled wine and punch were drunk, the vocational school students of the Konrad Biesalski School sold their wonderful, self-made workpieces, and afterwards we celebrated together with a hearty buffet.
This year, we honored our long-time employees again in this round. "You are a very important member of our Stolz company family. In today's fast-moving times more than ever" said Sven Koch, member of the management. We are proud that we were able to honor 9 employees again this year for their many years of loyalty: Sergei Linke (10 years), Sylvia Möhringer and Nicole Hahn (15 years), Renate Schwab (20 years), Elfriede Pfisterer (25 years), Kurt Schellmann (30 years), Gabriele Raab (35 years), Walter Richter and Gebhard Rettenmeier (45 years).
The management would like to thank your employees for their outstanding cooperation and many years of loyalty.